Hours & Address
12 S. First Street
St. Charles, IL 60174
(331) 901-5949
Get Directions
Mon – Thu 4-11pm
Fri+Sat – 11am-12am
Sun 11am – 10pm
*kitchen closes 90min before restaurant
Brewery + Kitchen Details
We're thrilled to be a part of the St. Charles and Fox River Valley communities with Alter Brewing + Kitchen, Alter's first full-service brewery and restaurant! Our facility includes seating for 160 on the inside and 100+ in our outdoor, riverside patio.
Highlights: There is plenty of theater within our four walls as we've positioned the brew house front and center as the heartbeat of our room. A private dining room adjacent to the brew house brings together small to medium sized private events in a vibrant sit down or cocktail environment.
Outdoor Patio: Along the Fox River, and including a full-service container bar, our patio comes alive 12 months out of the year as it will include a heated seasonal enclosure. Enjoy plaza dining as well with patio tables out front during the summer, and globes during the winter.
Full Service: While our beer is certainly the front man of this band, the supporting musicians are excellent players! A full-service kitchen, wine, and spirit program allows not just beer lovers but all to enjoy our carefully curated offerings. Whether you come for the beer, food, wine or spirits we know you'll stay and come back because of the great times you'll have.
Food & Drinks Menus
Try something new or your old favorite. Or both!
Tap lists updated weekly.
45 Cocktail • 36 Seated
The Private Dining Room
Sit around our table and raise a glass. Our dining room sits 36, with room for 45 for a cocktail event. Enjoy our semi-dedicated outdoor space when the weather is right, and enjoy our beer, food, and your company all year round.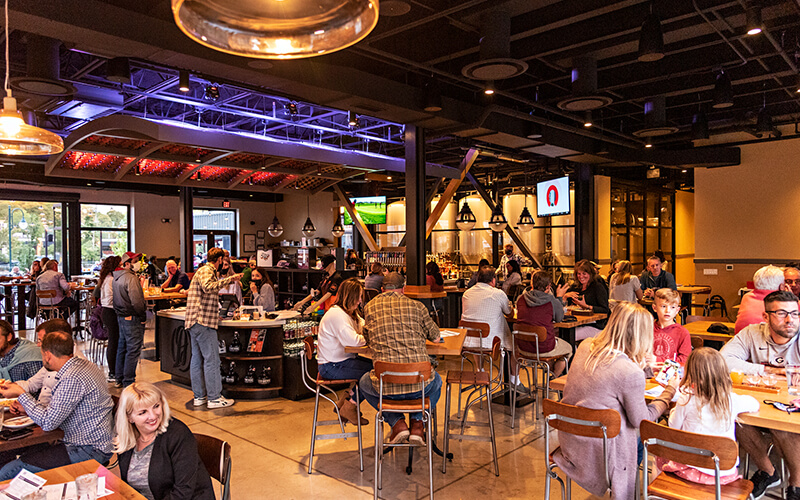 We'll be open just for you!
Daytime Events
Enjoy an amazing daytime event in our spacious dining room. You will have the entire place to yourself before we're open to the public along with dedicated bartender and server. Reach out to our events team below to learn more!